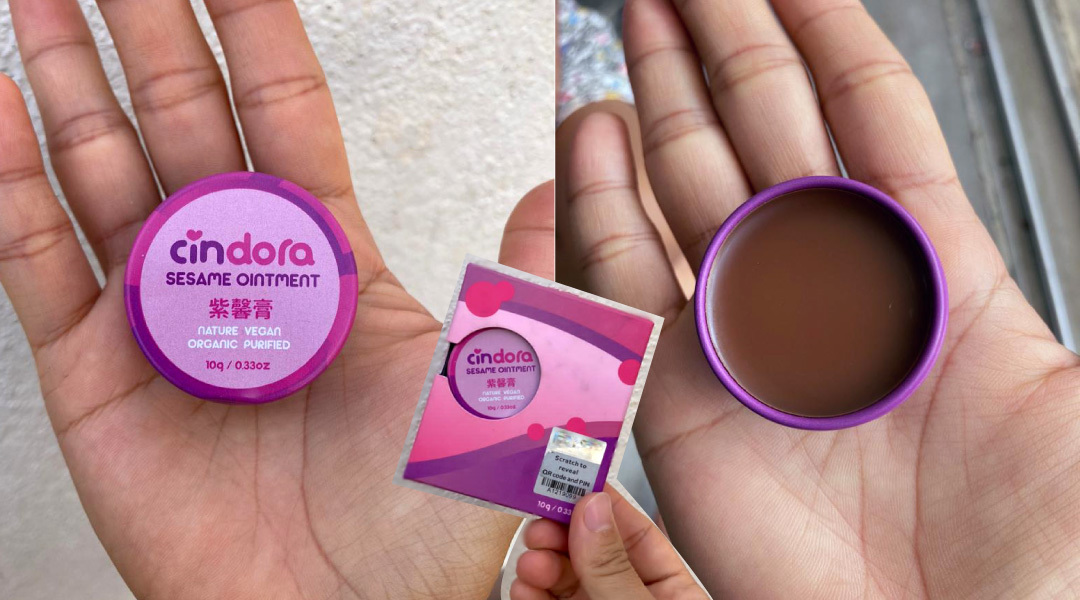 I met Cindora after I came back to Malaysia (I used to live in Taiwan for 9 years). It was actually fate. After contacting the Cindora team, I did a lot of homework and found that this company is really serious about making products and making products for Asians. Also, with the praise of friends and countless mothers, I became more and more interested in Cindora's products, especially the all-purpose Sesame ointment.
My girl has been very happy since getting the goods, she has always loved these skincare products. However, she is also quite picky. I don't understand her standards, but she will resist using some lotion/cream.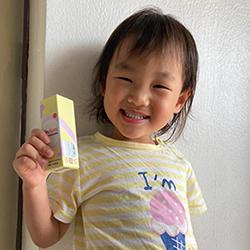 My girl's lip is quite dry recently and she kept looking forward after knowing that I bought her a lip balm. Cindora's lip balm is specially designed for newborn babies to 8yo children. Regarding lip balm, I will write another article to share my experience. ☺️
My girl is 3 years old and my boy is 1 year old. They love to play, falling is commonplace… Plus they get kissed by mosquitoes from time to time… I was distressed but what can I do? Before, there was propolis bought from Thailand that could be used, but I ran out of it; the horse oil recommended by my family, I think it's just so-so. And it's really just so right, Cindora Sesam Ointment finally arrived from Taiwan.
The bottle is purple and pink color, which is very cute. Although I have seen countless mothers praise the taste of Cindora Sesame Ointment, I didn't really understand their praising until the moment I opened the ointment. The faint fragrance of sesame oil is really really comfortable! It's not pungent at all, just a faint scent. I even think it has a healing and soothing effect.
Natural and Certified Ingredients
Cindora Sesame Ointment is mainly made with the first cold-pressed black sesame oil, and some high-quality raw materials certified by the European Union and the US FDA, such as German organic marigold oil and British golden oat oil. These two ingredients, mothers should be familiar with, they are good oils for our little baby's skin. It contains organic beeswax from the United States and comfrey roots from Japan too.
In addition to the various certifications for the raw materials, the finished Cindora Sesame Ointment has also passed many safety certifications, even HALAL certification. In Taiwan, there are not many skincare products certified by HALAL, but for quality and safety assurance, Cindora really does its best. They even make every product have a PIF, so that buyers can scan through the product to check and Certification to ensure that what you buy is genuine.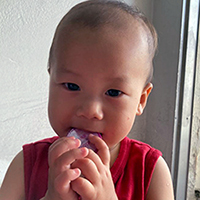 The products are made with natural ingredients, so if the baby really eats it accidentally, you do not need to worry! Sounds great right?! But still have to try to avoid children eat it accidentally arh!
Reduces Redness and Itchiness
Before my child uses it, I actually try it myself first. The next day I received the goods, I got the urticaria. It started from my thighs and arms and spread all the way to my body. On the first night, it was really itchy. I knew I couldn't scratch it, but I couldn't help it. The next day, I put on Sesame Ointment. As a result, it really relieves the itching! For the next two nights, I was able to sleep peacefully, which I really feel super thanks to this ointment!!!!
In those few days, because of the urticaria, I was very moody and didn't take pictures. The photo below was taken last week (finally remembered to take a photo, haha). I was stung by a mosquito, it was swollen and very itchy! After returning home, I wiped the sesame ointment and went to dinner. During the meal, there was no itching at all. Because of sesame ointment, the bugs that usually interfere with me at my feet did not appear that day. After dinner, I took pictures. The first time I watched before & after for myself, it really amazing! The swelling is almost reduced, the point is, it really does not itch!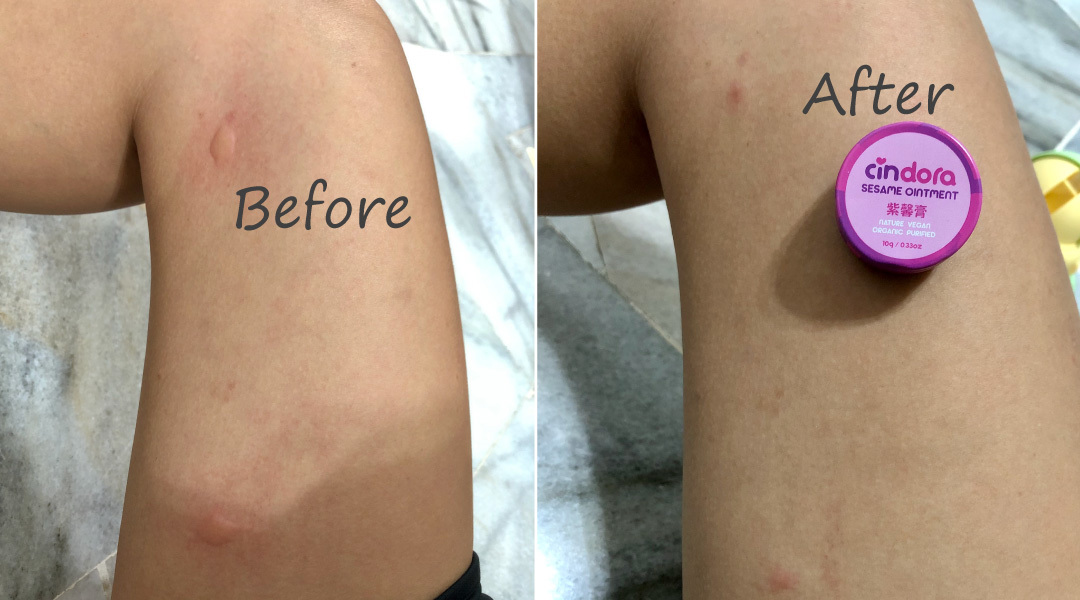 In fact, when my daughter was riding a bicycle, she fell again. I applied sesame ointment on her. Although it was a small wound only, but with the sesame ointment, it recovered very quickly. On the second day, the wound was no longer visible. In fact, she didn't feel any discomfort that night, it was like nothing happened.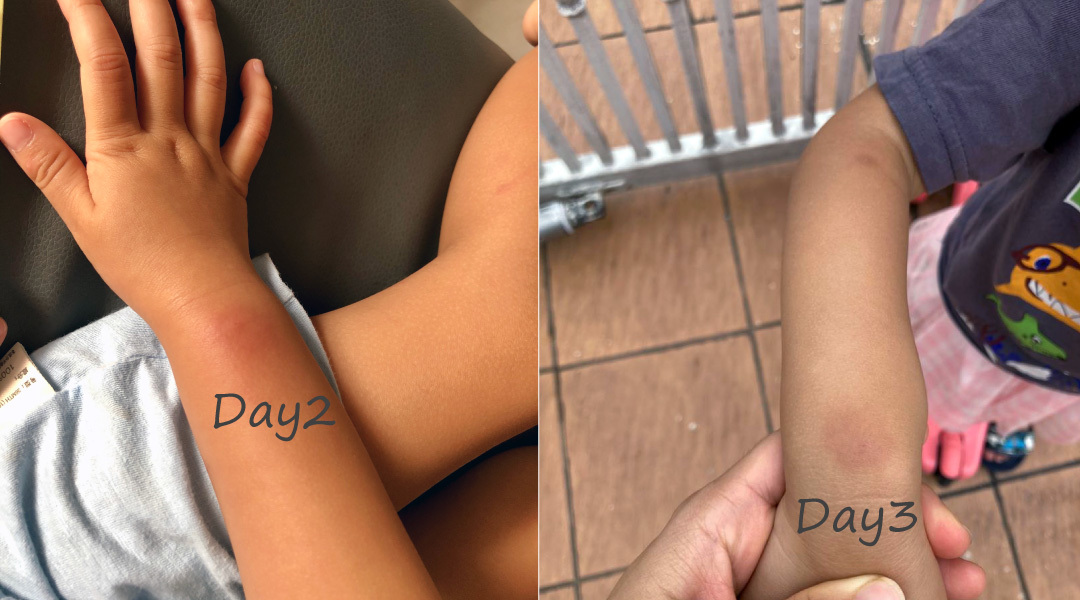 She was bitten by mosquitoes, Cindora Sesame Ointment was really effective

This Cindora Sesame Ointment is indeed an all-purpose ointment which popular among Taiwanese mothers. Whether using it as repellent or soothing or used for baby's saliva rash and even nappy rash! Basically, you can wipe Cindora Sesame Ointment if you feel uncomfortable on your skin. This ointment has a comfortable taste, super effective, high-quality, and safe. It can be used by newborns, pregnant women, nursing mothers, and even babies with G6PD!
Keep the natural goodness on the child
Honestly, I can better appreciate the spirit of Cindora "Keep the natural goodness for children" only after I using this powerful product. I brought Cindora to Malaysia because I wanted to use good products for myself and my children, and I also wanted to introduce the good things from Taiwan to Malaysians.
Compared with European and American brands, Cindora may not be that well-known, but it has good quality, good effects, and most important, it's safe. Moreover, it is specially designed for Asians, the products which more suitable for our skin!