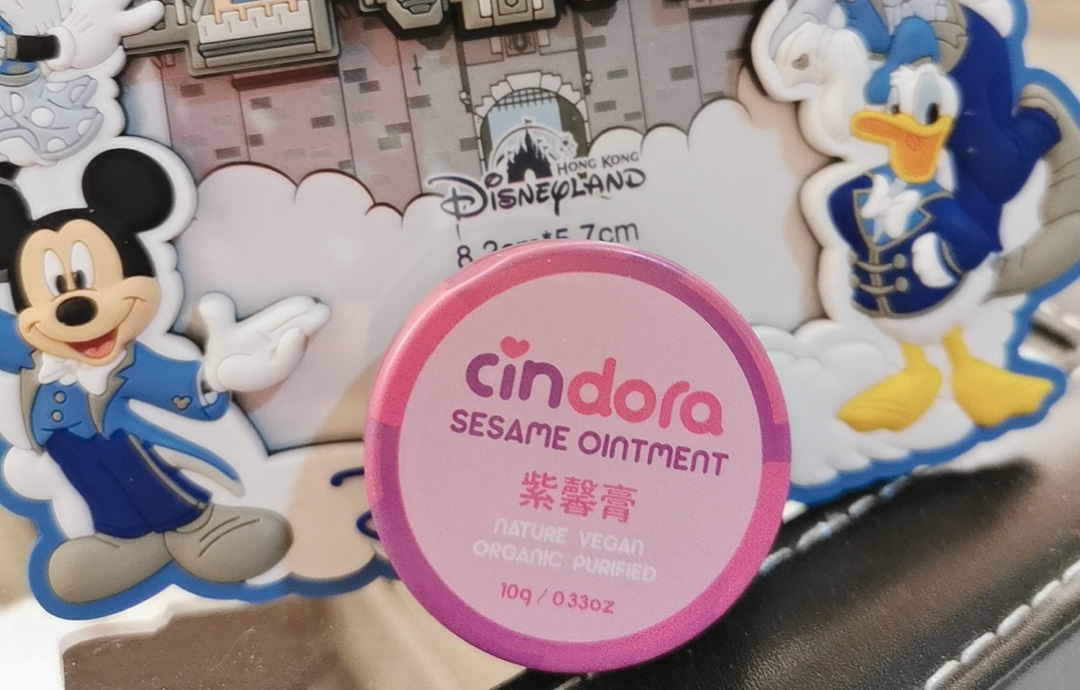 There's a good thing I want to share after using it–Cindora Sesame Ointment.
After using it for a long time, I think everyone will need a Cindora Sesame Ointment. This is not an exaggeration, the sesame ointment is really good to use. I will say this is a must-have skin ointment for every mom!
As I know, Taiwanese mommies are highly recommended and their repurchase rate is very high. Of course, I totally know why they love this sesame ointment that much after using it!
Not only Baozi used Cindora Sesame Ointment, but I had experienced the power of this ointment too. Seems this is the mosquito season now, we use the electric mosquito swatters every day, but the pi pi piak piak sounds will never get ended. We get bites a lot, and the itchiness is reallly annoying, the skin was about rotting due to those scratches?
Relieve the itching, redness and swelling
After being a mother, I am very afraid of the child getting mosquito bites, because it will red and swell, and the red mark is difficult to eliminate… But the effect of using Cindora Sesame Ointment is amazing. It can not only reduce redness and swelling quickly (see the picture below for comparison), but also relieve the itchiness!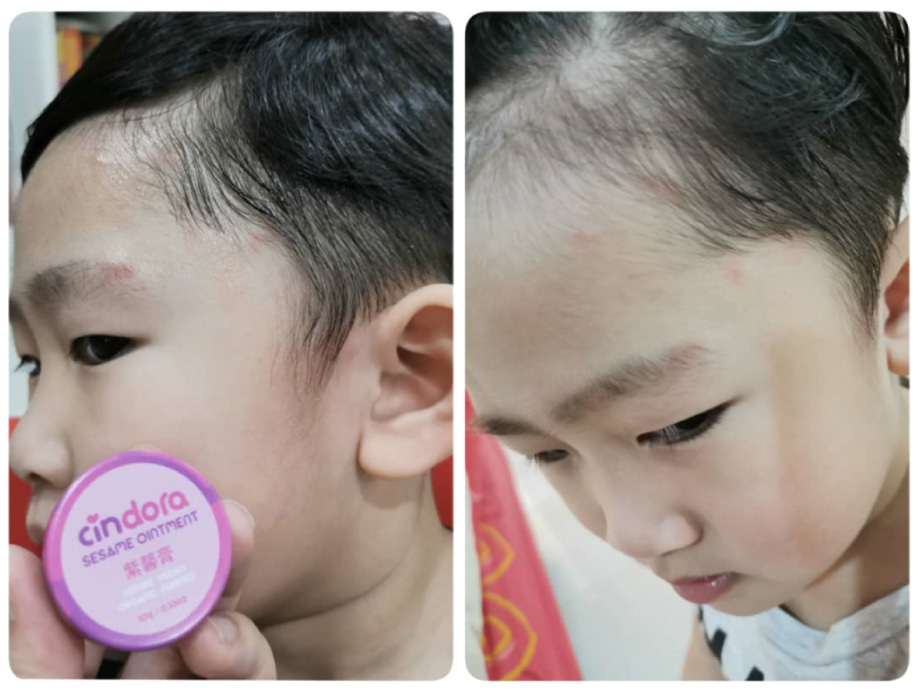 The most painful thing after mosquito bites is itching, but applying the sesame ointment will relieve the itchiness within few minutes, and also reduces redness and swelling, it is very effective. Now as long as there is an itchy, Baozi will ask me to apply the sesame ointment to him too.
Moisturizing and repairing, even solve my hand eczema!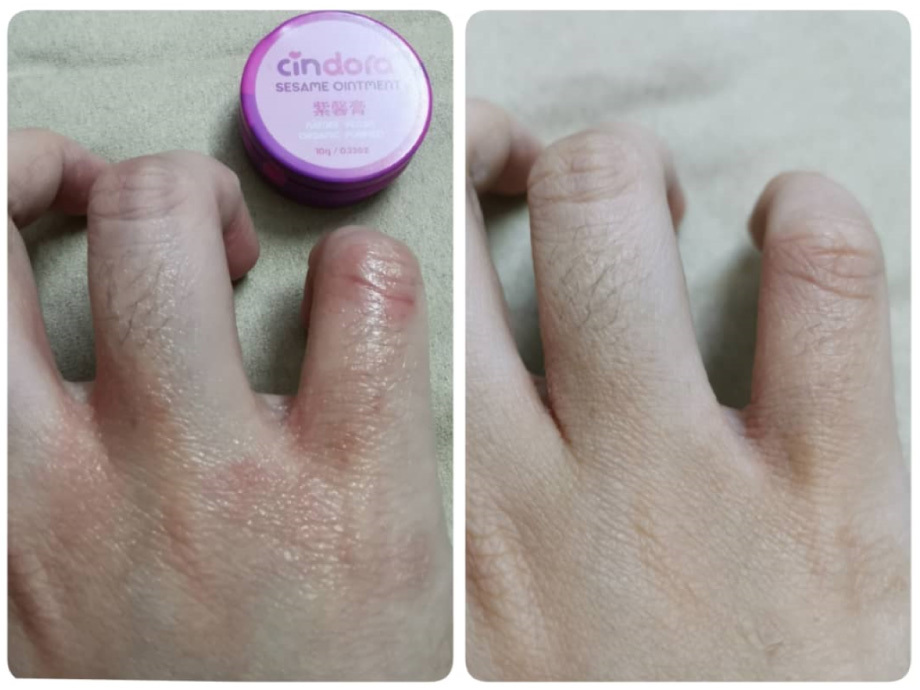 I spent a lot of money, have seen many doctors, and spent a long time with my hand eczema before which did not get cured…But, surprisingly that Cindora Sesame Ointment solve my skin problem within only two weeks, which greatly reduced my discomfort and the pain is gone, this makes me love this sesame ointment more!
The effect of Cindora Sesame Ointment is quite a lot, and you will treat it as a treasure after using it. For example, mosquito bites can be used, cracked hands and feet/hand eczema can be used, eczema skin can be used, nappy rashes or drool rashes can be used, you may use it as a mosquito repellent too!
Some moms say that can use when getting cuts or hot water splashed, to soothes the pain and discomfort, will stop bleeding quickly and will not blisters easily too. Wow, sounds like this is a must-have item in our kitchen too? (Which mother who enters the kitchen has not been burned or cut, right?)
Natural ingredients, mild and non-irritating
Cindora Sesame Ointment is very useful and effective, but no worry about the ingredients. There're natural and mild, 100% free of medicinal ingredients. Also, there is no animal experiment, and various indicator certifications have been obtained. It is safe enough and even suitable for Vegans.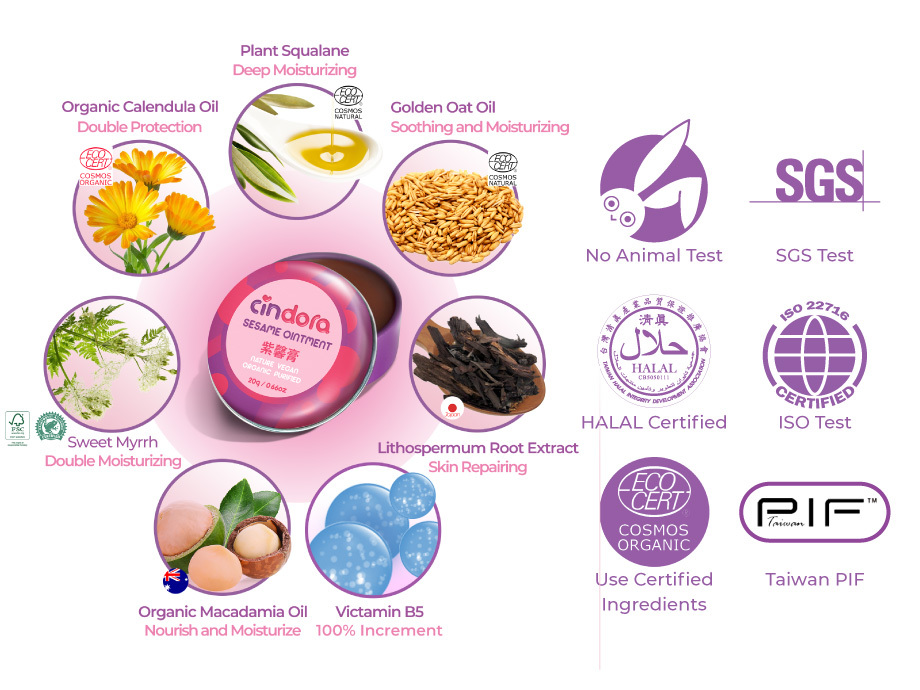 Once you open the sesame ointment, you will smell a faint sesame oil scent, which is very comfortable. It is very mild, you do not need to worry about the tingling sensation when applied to the face or wounds.
Because the ingredients are very natural and mild, there is no need to worry about if your baby licked it accidentally or rubbing into their eyes. The safety greatly meets the needs of mothers. It can be used for newborn babies, pregnant and nursing moms, even sensitive skin, eczema babies and G6PD babies. Well, whether it's a gift for a newborn baby or use it for yourself, it's also very suitable.
How good is Cindora Sesame Ointment? You will find it out until you have used it and sure, you will fall in love with the ointment.
If you have a baby, it is recommended to prepare a bottle of Cindora Sesame Ointment, you may use it to soothes their nappy rash, drool rash, heat rash, or apply some to prevent mosquitoes for babies. For elder children, whether it is mosquito bites, rashes or fall wounds, etc., it is also very suitable for repairing and anti-inflammatory. Mummy can use it too, skin getting dry and itchy? Try Cindora sesame ointment, my hands, elbows, knees, and heels are getting much moisture after applying it. Even my hand eczema has improved a lot!
Haven't started to use the sesame ointment? You might need to get one for you and your baby, this is really good to use and worth it!